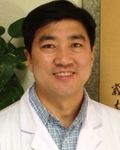 Dawei Shao
Acupuncturist, DOM, MSOM
Verified
Dr. Shao has degrees on both Western and Chinese Medicine: a bachelor degree of Western Medicine from Clinical Medicine Department, Harbin Medical University in China in 1996; a Master Degree of Oriental Medicine from Southwest Acupuncture College in USA in 2006. He also obtained a MHA degree ( Master of Health Administration ) from University of New Mexico in May 2022. Through the training of both medicines, Dr. Shao has a unique understanding about healing and health. He is Nationally Certified on Oriental Medicine and is licensed in New Mexico as a Doctor of Oriental Medicine.
---
TMJ Syndrome Acupuncturists
If you're looking for TMJ Syndrome acupuncture in Albuquerque or for an Albuquerque TMJ Syndrome acupuncturist these professionals provide TMJ Syndrome acupuncture help. They include TMJ Syndrome acupuncture Albuquerque professionals, TMJ Syndrome acupressure professionals, and TMJ Syndrome acupuncture acupuncturists Albuquerque.


---
Acupuncture in Albuquerque - is it right for me?
Acupuncture is based on the concepts of
oriental medicine
or
traditional Chinese medicine (TCM
) and is one of the oldest healing practices in the world. Albuquerque acupuncturists are health care professionals who evaluate and treat the many conditions, aches and pains that respond to acupuncture.
Acupuncturists insert very fine acupuncture needles into the body. The purpose of the needles is to stimulate acupuncture points or meridians. The needles do not inject any substance into your body and are so fine as to be virtually impossible to feel. In some cases, acupuncture may be accompanied by electrical stimulation or the burning of
moxa
, a form of heat therapy. Or use acupressure, where physical pressure is applied by hand or elbow to trigger points with the aim of clearing blockages in these meridians.
'Accupuncture' and 'Accupuncturist' are common mis-spellings.